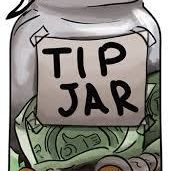 Add a tip to help us keep making music!
If you like what you hear and would like to give us a tip. It will be greatly appreciated!
Enter the amount you wish to donate
Hello my fellow babies. Check out the live Youtube or Facebook broadcasts my 4 piece band has recorded??? Check them out on Youtube by searching " Sals Sticky Buds Band". The band is sharpening their improv skills on original songs and some choice cover tunes. It''s cool playing with such seasoned musicians. The more we jam tighter we become. I think you'll like what's happening with the songs. Our video techs (Patty, Sheila, Brandy, Sheri and Andrea) have moved us from a simple iPhone camera shoot to a 4 iPhone camera production. It's really slick. The band is working on 16 new (never heard before) songs for an album. We were broadcasting every Sunday night from The Tower but that venue sold! We bought a 1930's Church and will be back up broadcast soon, as soon as we do some quick re-mods. It will be a really cool venue and we will broadcast other bands from this Clearwater Florida location. Plenty of magic and mojo in this old church. We have twice the stage area to move around in. I will post some pictures on this site so you can see the progress. Tune in and give us your no BS input and opinion. Be sure to tell us where you are watching from. We love hearing from people around the world. What a trip!,!! Stay safe   Sal Belloise

If you would like a professionally recorded CD in a beautifully printed ECO friendly jacket you can purchase it for only $9.99 by clicking the "BUY NOW" tab on this site.

 
You are visitor number: 210236